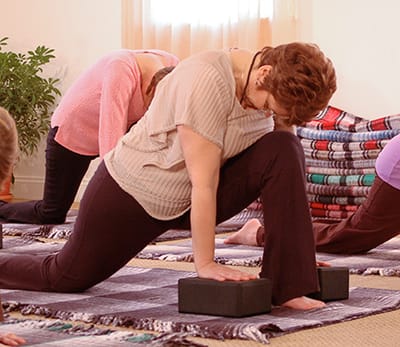 Svaroopa® yoga uses props and precise alignments to help you get the most from your poses. Breath work and deep relaxation are a part of every class. There's no experience necessary, classes are beginner friendly, gentle and restorative.

Svaroopa ® yoga is yoga for the rest of us. Without straining or exercising, you will release deep tensions in your body. Each class is designed to teach you how to release your own spine, and take yoga into your daily life.

Embodyment® yoga therapy, as well as group classes are available. Please feel free to contact me to talk about what will work for you.
Lalieseyoga@gmail.com

Class Schedule
Monday via Zoom 4:00 EST Contact me for more details
Tuesday 9:30 am
Thursday 6:30 pm
Friday 2:00 pm




SVAROOPA® is a registered service mark of SVA used under license and EMBODYMENT is a service mark of SVA used under license.